Winner is #13 - Maria - CONGRATS
Winner will be contacted via email. If they do not respond within 48 hours, a new winner will be chosen.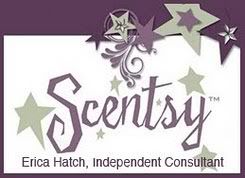 Rad Scents is the Scentsy site for independent consultant, Erica Hatch. Erica says "Scentsy is a passion of mine. I do believe in safe scents. So many of my friends and family members have young kids or dogs; Scentsy is the perfect, safe alternative to candles. There is no need about forgetting to blow out the candle before you leave. You can simply just plug in a warmer and you are good :)"
For my 100 Blog Follower Giveaway, she was kind enough to sponsor the following giveaway:
Scentsy Plug In Warmer - $20 Value
Winner chooses which warmer from the list on the sponsors site
MANDATORY ENTRIES (must be completed before any extra entries will be counted)
Visit Rad Scents Scentsy site and leave a comment in response to this post stating which plug in warmer you would choose if you won.
Follow Brookies Baby Bargains (this blog) via Google Friend Connect. Leave a comment in response to this post letting me know that you did. Please include your Google Friend Connect name in the comment. If you win and you are not a follower, a new winner will be chosen. (+1)
EXTRA ENTRIES:
Like Rad Scents on Facebook and leave a comment on their wall letting them know that @Brookies Baby Bargains sent you. Leave a comment in response to this post letting me know that you did. Please include your Facebook name in the comment. (+1)
Like Brookies Baby Bargains on Facebook. Leave a comment in response to this post letting me know that you did. Please include your Facebook name in the comment.(+1)
Post about this giveaway on your Facebook wall. Leave a comment in response to this post letting me know that you did. Please include a link to your Facebook page in the comment.(+1)
Follow Brookies Baby Bargains on Twitter. Leave a comment in response to this post letting me know that you did. Please include your twitter name in the comment.(+1)
Tweet about this giveaway. Leave a comment in response to this post letting me know that you did. Please include the URL of your tweet in the comment.(+1)
Subscribe to Brookies Baby Bargains via email, and confirm your subscription (see the right hand side bar). Leave a comment in response to this post letting me know that you did. (+2)
If you have a google account, click the +1 button at the bottom of this post. Leave a comment in response to this post letting me know that you did. (+1)
Enter another another "100 Followers Giveaway" on this blog. Leave a comment in response to this post and let me know which one you entered. (+1 per giveaway entered)
Blog about this giveaway (and link back to the giveaway in your post) and leave a comment in response to this post letting me know that you did. Be sure to include the URL of your blog post. (+3)
Grab my button (code is on the right side bar under the button) and post it on your blog. Leave a comment in response to this post letting me know that you did. Be sure to include the URL of your blog. (+3)
Giveaway is open to participants in the US. Ends 7/27/11 @ 11:59 pm MST.
Please comment in response to this post once per entry so that you are entered the correct number of times in the giveaway (+2 means 2 comments). Make sure you leave your email address in each comment so that I can be sure to have a way of reaching you should you win. Winner is chosen via random.org and winning announcements are posted on the Blog & FaceBook on the day following the close of the giveaway. I will also e-mail the winner. Participants have 48 hours from close of giveaway to respond and claim their prize.**You MUST follow this blog, Brookies Baby Bargains, via Google Friend Connect for ALL GIVEAWAYS on this blog. If you win and you are not a follower, a new winner will be chosen.**
FIND MORE 100 FOLLOWER GIVEAWAYS HERE